70 years of expertise in logistics and transport
The history of the Walden Group began in Auvergne (central France) in 1951, with the creation of the Centre Spécialités Pharmaceutiques (CSP) by Marcel Baudry. His goal was to facilitate the distribution of medicines in the region.
Seventy years later, following the creation and acquisition of numerous additional activities, the Walden Group was created. The Group has become the European leader in the distribution of health products. Operating in 12 countries, the Group has a total turnover of more than €1.7 billion and can count on the expertise of its workforce of more than 5,000 employees.
Today's Walden Group is made up of five different companies specialising in logistics and transport.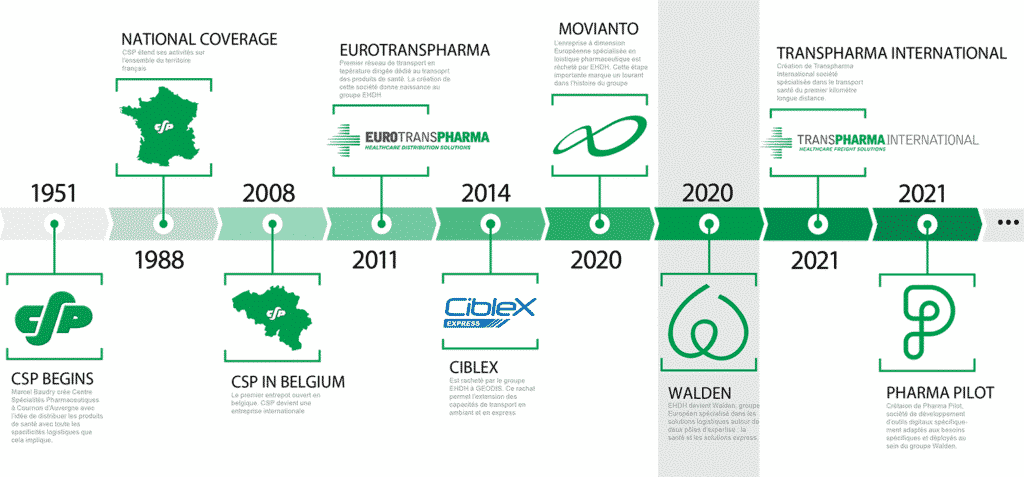 Two areas of expertise
The Walden Group has built its success around two areas of expertise:
First, the distribution of pharmaceutical and health products, which is its longest-standing activity. The particularity of the group is its ability to offer an "all-in-one" logistics solution from the manufacturer to the patient.
This function has since been supplemented by the development of an express transport service aimed at professionals in all sectors of activity. Walden and Ciblex
Walden and Ciblex
It was the takeover of Ciblex by the Group in 2014 that gave birth to Walden's Express Division. The initial aim was to offer an express transport service to its customers. Later, Ciblex's B2B positioning won over many professionals from a wide range of business lines including the automotive industry, high-tech and the optical sector.
Walden: a family story
Founded by Marcel Baudry in 1951, the company is now managed by the third generation of the family. At its head is Stéphane Baudry, the grandson of the founder, who has brought about the transformation of the Group in recent years by diversifying first and foremost within France. At the present time, the internationalisation of the group has accelerated and the fourth generation of the Baudry family is preparing to take over.
Learn more >>>