It is important to correctly pack your parcels before transport. Follow our advice!
Before transport, the package preparation phase is very important for the proper express distribution of your goods. Follow the advice and guidance below on the size, the type of packaging and the closing and labelling of the package. These practical tips will guarantee the quality of the transport service. A well-prepared package prior to transport guarantees a successful express delivery.
Size and weight of parcels delivered by the Ciblex network
The Ciblex network specialises in the delivery of parcels weighing up to 30 kg. Our sorting chains are automated to allow rapid and efficient processing of flows and guarantee the express delivery of your goods: before 8.00 a.m., before 9.00 a.m., or before 12.00 noon.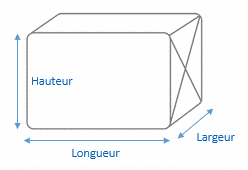 Maximum weight of each parcel: 30 kg
Maximum size: 2 linear metres
Or Length (cm) + Width (cm) + Height (cm)
Which packaging should you choose?
Outer packaging
Choose quality and resistant packaging in perfect condition. It is essential that it corresponds to the size, weight and type of products to be transported. For example, for heavy goods it is preferable to use double corrugated cardboard boxes, and for temperature-sensitive goods use suitable packaging. For your documents or small flat objects, a rigid envelope is preferable. If your packaging has already been used for a previous shipment, remove the old labels.
Inner packaging
Check that each item is properly secured inside the packaging or shipment box. In addition, we advise you to avoid boxes that are too big for their contents and that could collapse or be crushed. For fragile goods or objects, add protective layers about 5 cm thick in the bottom, on the top and on the sides of the package. This protection for your fragile object can be bubble wrap, tissue paper or old newspapers. Choose padding material dense enough to fill the gaps so as to improve impact resistance. If necessary, add extra protection to the ends of sharp objects. These could injure you or your recipient and anyone handling your package throughout the delivery.
Ciblex packaging: Ciblex offers you "All inclusive" Ready to Go practical packaging kits, without the formalities of opening an account: Contact us.
Closing the package
Close the package with a thick and strong adhesive tape. If possible, tape the package in both directions. Please note that you must NOT use twine or ribbons which could get caught in our sorting chains and constitute a danger for our handling agents.
Package labelling
The transport label is essentially the "identity card" of your parcel. It contains all the vital information for a quality express delivery. Once closed, stick a shipping label on the top of each package.
The barcode must be legible and nothing must interfere with its reading. Check the readability of the information. To improve the identification of your parcels, Ciblex provides you with a range of stickers for the H8, H9, H12, "Saturday Morning" and H Export services. You can order them directly from your Ciblex Customer Area.
Poor packaging represents a risk for your goods and for all the people who have to handle the parcel throughout the transport. Our drivers are authorised to refuse poorly packaged parcels in the following cases:
Damaged boxes: crushed or damaged parcels, or parcels with holes in are not accepted
Soggy boxes: water-damaged and leaking packages are not accepted
Non-compliant packaging: Heavy items should not be placed in boxes that are too fragile. Boxes must be of sufficient strength, quality and size.